As a plant-based coach and educator, I have spent the better part of eight years evaluating products, building relationships, and creating a resource of our favorite products that we use daily (and fully support).
Some links may be affiliate links. As an Amazon Associate, I earn from qualifying purchases.

These aren't one-off items that were sent to us for free to review. These are products in our kitchen (and now in our RV kitchen) that have made an impact on our plant-based lifestyle. Items that we have purchased in the past or things we recommend because we buy them and use them.

So how can you help support VegInspired? Well, the links below take you to some of our valued partners. By following those links and using our discount codes, you are telling that company that you want us to get the credit for sharing that product with you. They, in turn, set aside a portion of their sales to give back to us as a thank you. The excellent products you buy and get to enjoy don't cost you anything additional (and in some instances you receive a discount too!), and you continue to receive free content from us without those pesky advertisements. It's a win-win for everyone!

Shop our Partners
As amazon partners, we have been able to curate our Amazon shop of our favorite products. I am always updating the shop with new products that we enjoy. Be sure to stop by and check out all my favorite cooking products, vegan ingredients and snacks, camping gear, cookbooks, and vegan living books.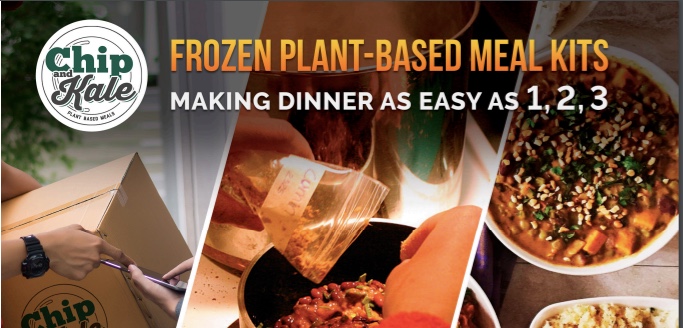 Plant based meals, prepped, measured, frozen, and shipped right to your door. Read more about Chip and Kale in this post: Chip and Kale Review, and be sure to use the code "veginspired" for 10% off your first order.
John and I both love to cook in cast iron pans. This smooth flat Field Company pan is perfect. We created a beautiful seasoning and now the pan is smooth and easy to clean. Add one to your kitchen today!
Shop plant-based favorite superfoods – like clean, unfortified Nutritional Yeast, Raw Cashews, Cacao Powder, and more! We love this brand for its clean and high-quality products. Use code ' veginspired' for additional savings!
Save your food without using plastic. From Preserving Avocados to Ziploc replacements, food huggers are a staple in the RV kitchen!
Dishwasher safe and BPA free, these little produce and leftover savers are sure to be your favorites too!
An easy way to add flavor to your meals by using the Mesa de Vida cooking sauces. I have tried all five and I don't know if I can pick a favorite. I guess it is probably the Latin since I am a "taco junkie" hahaha!
A staple in our pantry to use for everything from a taco topping or burger topping to a dip for veggies, crackers, and chips. I love the Tangy and John is partial to the hot, but all three flavors are excellent to "flip your dip" and use a plant-based almond cheezy spread. Use code "veginspired" for 10% off your order directly from Notcho Nocheez.
Clean ingredients in recyclable glass jars, I am loving the way my skin looks and feels after using these products. A little goes a long way, so stock up today and give your skin that fresh youthful glow. Use code "veginspired" for 10% off your order!
I finally found an all-natural deodorant that works AND doesn't break out the skin under my arms. It took years (I'm not even kidding), but I am so happy with the Rustic Maka All-Natural Deodorant. The Mango Charcoal one has a great scent, but I am partial to the Dream Catcher.
Plan your meal using the Scientific meal planner and pull from existing plant-based meals. Scientific Meal Planner analyzes recipes and lists recipes that align with Dr. Greger's Daily Dozen recommendations. Get started today.
Whether you are camping or simply enjoying a backyard fire, wolf em sticks add tons of fun! Cook up your biscuit dough into little cups and fill them with anything. How about Taco Filled Wolf Em Cups using our taco filling (and some Notcho Nocheez)? YUM! Use code "veginspired" for 10% off.